News:
---
Energy Tracking's WEM-MX-24 Enhanced 5th Generation Smart Meter And Data Logger




FEBRUARY 02, 2018



Energy Tracking is pleased to announce the upcoming release of its next generation advanced smart meter. This 5th generation WEM-MX-24 is a compact 7.75" (L) X 5.8" (W) X 2.7" (H) kWh meter that has 24 metering inputs enabling kWh measurement for 8 three phase or 24 single phase loads. Simply said, Energy Tracking has combined 8 Three Phase kWh meters in a single compact and cost effective package.

It is auto ranging from 120 VAC ~ 480 VAC, operates at 50Hz or 60 Hz with an accuracy of 0.5%. This model has a SD Card interface that allows the meter to continuously log 1 minute and 15 minute load profile data for over 20 years using a 32GB SDC.

The WEM-MX-24 has a web server built-in that can be accessible by any web browser and combines revenue grade electric metering accuracy and an Ethernet enabled solution for two way communications and reporting. This smart Internet enabled energy meter provides a superior solution with the ability to be accessed in real time via a standard web browser and be configured to send consumption, demand and load profile reports via FTP and Web Services every 1 minute if required. The WEM-MX-24 uses external current transformers that provide a 333mV secondary output (Safe-CTs).

The display has been designed to enable instant verification of the meter's operation and a push button menu option enables the end user to zoom into any of the 8 meters. The measurement for each metering point includes: kW, kWh, kVARh, Voltage, Current, Power Factor, VA, Frequency. Furthermore, the WEM-MX-24 can measure both imported and exported kWh as well as Peak Demand for each of the 24 metering channels.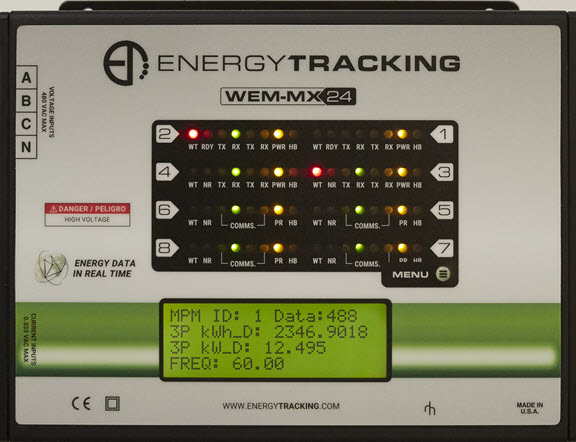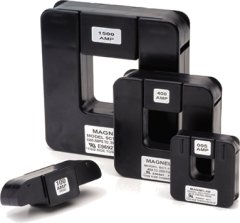 ---

CONTACT US
Energy Tracking is committed to providing high quality, advanced revenue grade metering and software technology at reasonable prices.
Please contact us at 973-448-8660 so that we can provide your company with additional information. When you call or contact us via email, we will designate a customer service representative who will be responsible to answer all of your queries and help you throughout your project deployment. We provide unlimited telephone and email support.

Thank you for your time and we look forward to working with you.
---